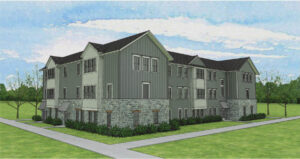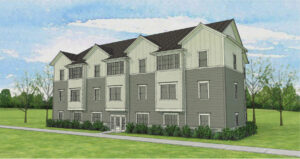 Renderings courtesy of Courtyard Building and Block
To save a high-res file of the photo, click on the image above to open the full-size photo and then right-click to save the file to your computer.
OKLAHOMA CITY, OK – A master-planned community called Brookstone Village has been announced in the fastest growing submarket of Oklahoma City. ERC Holdings and Tradewind Properties have come together to develop PURE OKC, a 150-unit multi-family complex within the 24-acre mixed-use community being developed by Caleb Hill at PrecorRuffin. The desirable location at the southeast corner of Mustang Road and 29th Street, along I-40 and the Kilpatrick Turnpike, will offer convenience to residents who may include young professionals, families and retirees. 
"Brookstone Village is positioned in the hub of all of the exciting growth happening in the increasingly desirable Southwest quadrant of Oklahoma City," said Caleb Hill, at PrecorRuffin. "The first priority was selecting a location that would complement the municipality's vision for the area to become a desired asset to residents into the future. There have been very few master-planned developments in this submarket, and now we are seeing sharply increased demand for retail right in this area." 
Located within the Southwest Oklahoma County master plan, construction of the first multi-family buildings began this month. The first units will be completed in Fall 2023. The project includes new construction of 71 one bedroom and 79 two bedroom apartment units spread across 147,000-square-feet in four, three-story buildings. Multiple High-end and uniquely designed building styles will feature spacious interiors and well-designed floor plans. The general contractor of the multi-family component is by Pick-It Construction Inc. of Fayetteville, Arkansas. The architect is Courtyard Building and Block. The Property Manager is Greystar. 
Sidewalks and a private road will connect the seven acres of apartment housing to the 17-acre commercial development. Phase One includes 20,000-square-feet of retail and restaurant space, which will break ground in the first quarter of 2023 and open during the fourth quarter of 2023. Tenants include a coffee shop, JackBe curbside drive-thru grocer, Domino Express convenience store, USE Federal Credit Union and more. Phase Two construction will start in the first quarter of 2024.  
"Connectivity, convenience and a sense of community are our ultimate goals for PURE OKC. This is a unique situation of three developers coming together to intentionally develop a walkable living experience, which is rare in a suburban environment," said Rob Coleman, President at ERC Holdings. "Our synergistic development approach and the intentional design of PURE OKC will provide residents with a desirable, instant neighborhood where they can live, recreate, shop and even work all within walking distance."
The amenity-rich apartment community will feature a dog park, walking trails, resort-inspired pool, clubhouse, 1,000-square-foot fitness center with gym-quality equipment, technology lounge/business center, pocket park, numerous greenspace gathering areas and professional landscaping using locally popular vegetation. All units will have washers and dryers, ENERGY STAR-rated kitchen appliances, energy-efficient mechanical systems, upgraded interior finishes and window coverings.  
The architectural concept developed for the PURE OKC residences is to use simple, classical, well-proportioned buildings arranged on the site in a way that defines private recreational spaces for the residents. Unlike most apartment communities with identical buildings, the development will feature a variety of colors and exterior materials to create visual interest and the feeling of a neighborhood.
Third-generation ERC Holdings, based in fast-growing Northwest Arkansas, has developed multi-family residential and commercial properties in progressive, mid-tier growth cities across 11 states. Tradewind Properties is a Houston-based real estate company that has acquired, developed and managed nearly 12,000 high-quality, multifamily units in five states, including Oklahoma.


ABOUT TRADEWIND PROPERTIES
Tradewind Properties is a Houston-based real estate company focused on acquiring, developing, and managing high-quality multifamily communities. Since its inception, Tradewind has owned and operated nearly 12,000 units across Arkansas, Kansas, Nevada, Oklahoma and Texas.

ABOUT GREYSTAR
Greystar is a full-service multifamily real estate company and is the largest third-party management provider in the US. Greystar has been steadily growing in Oklahoma markets over the last 15 years. Greystar's expertise in Oklahoma has consisted of lease-ups and management of high-quality communities across the state.

ABOUT ERC HOLDINGS
Since 1957 and across three generations, ERC has developed multi-family residential and commercial properties in mid-tier growth cities across 11 states. ERC's unique approach is to invest equal thought into the buildings as the people who will one day call these buildings home. Communities are thoughtfully designed to enhance the overall human experiences where people live and work. ERC forms a strong construction and development team for each project and manages every aspect of the development process from site selection, zoning, cost control, preconstruction, construction, all the way through turnover. ERC fosters synergistic relationships with progressive cities to ensure that the developments enhance the city's master plan and are a desired asset to residents into the future. For more information, visit www.erc.com.
#  #  # 

Media Contact
Rachel Brown
[email protected]
314-266-7035