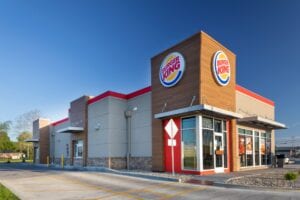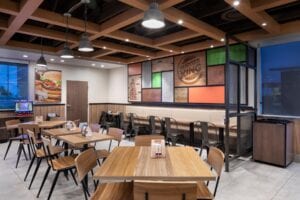 Click image to open high-res version, then right click to download
ST. LOUIS, MO — A new Burger King recently opened in Highland, IL and the community is invited to a celebration on Friday, September 27 from 12 p.m. to 2 p.m.  Activities will include special deals, the Impossible WHOPPER® challenge and more. 
The new Highland Burger King located at 12556 Illinois Route 143 has led to more than 30 new jobs for local residents. The franchisee Broadway Restaurant Group also will award a $1,000 college scholarship each year to employees or community members from the Highland area. High school seniors from the community or employees and their family members pursuing a secondary education degree may apply for the scholarship between October 15 and December 15 at https://bk-scholars.com When dining at the Highland Burger King through October 31, guests can donate to the Burger King McLamore Foundation Burger King Scholars program.  
"We strive to hire and promote right from the surrounding communities, giving residents a livelihood and path to career growth. In fact, ninety percent of Broadway Restaurant Group managers have been promoted from within," said Michael Adams, Broadway Restaurant Group's Vice President of Operations. "We are so excited to invite Highland residents to our team and become an active member of the Highland community."
Broadway Restaurant Group, the St. Louis-based Burger King franchisee selected for the successful national test market of the meatless Impossible WHOPPER®, is adding several more new locations over the next few months, including Bellefontaine, Hazelwood, St. Roberts, Hanley/Natural Bridge, Union and Jefferson County.
"Burger King has significantly upped their game over the last couple of years to stand apart from what people typically expect from a fast-food restaurant. 'Wow, this is a Burger King?' has been the common guest feedback at new and remodeled stores," said Henry Delouvrier, co-founder and managing partner of Broadway Restaurant Group. "There have been upgrades to the guest experience across the board – from overhauling the look and feel of the restaurants, to launching new and innovative products like the Impossible WHOPPER®, and improving the quality of ingredients in core products." 
Broadway Restaurant Group is currently hiring employees in Highland and their other new and existing Burger King locations across St. Louis, Southern Illinois and Missouri. Interested applicants can apply at https://www.b-restaurants.com/careers or in-person at any Broadway Restaurant Group location.


ABOUT BROADWAY RESTAURANT GROUP
Managing partners, Henry Delouvrier of New York City and Christine Apold of Toronto, founded Broadway Restaurant Group in November 2016. Based in Maryland Heights, Broadway Restaurant Group operates locations in St. Louis, across Missouri and Southern Illinois. Broadway Restaurant Group is one of a select group of United States Burger King franchisees that consults with corporate and test market concepts, including the Impossible Whopper. For more information, visit https://www.b-restaurants.com, email [email protected] or call (314) 872-9235. 

ABOUT THE BURGER KING® BRAND
Founded in 1954, the BURGER KING® brand is the second-largest, fast food hamburger chain in the world. Every day, more than 11 million guests visit BURGER KING® restaurants around the world. Burger King beef patties are made with 100% beef with no fillers, no preservatives and no additives. All Burger King burgers, including the flagship WHOPPER® sandwich and the plant-based Impossible WHOPPER®, are flame-grilled for a premium taste profile. To learn more about the BURGER KING® brand, please visit the BURGER KING® brand website at www.bk.com.
# # #
Media Contact:
Rachel Brown
[email protected]
314.266.7035