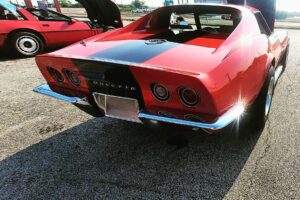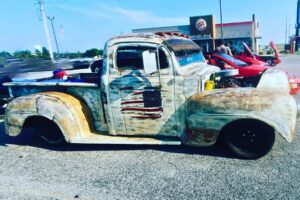 Photos Courtesy of Broadway Restaurant Group
Click on the image above to open the photo, then right-click to save the file to your computer.
FORT MADISON, IA — BURGER KING® and Pen City Cruisers car club will host its first ever car show in Fort Madison, Iowa on Friday, October 13th, 2023 to bring together enthusiasts of all types of cars from the surrounding Fort Madison area. The event will run from 5:00 p.m. to 8:00 p.m. at the restaurant's location at 4805 Avenue O. The event is free to attend. Inside the restaurant, BURGER KING® will be offering exciting specials on food and frozen drinks exclusively for attendees.
The casual, fun event will provide a place to showcase cars, trucks or bikes and connect with fellow automotive enthusiasts and for the community to see the unique vehicles.

ABOUT PEN CITY CRUISERS
The Pen City Cruisers are a car club for car enthusiasts and those who like car shows and car people. Centered in Ft. Madison since 2013, the club has monthly meetings, an annual show, monthly cruise nights and we help with other cruises and car events. For more information, visit their Facebook Group page at www.facebook.com/groups/1021065615170676.

ABOUT BROADWAY RESTAURANT GROUP
Broadway Restaurant Group operates Burger King locations in St. Louis, across Missouri and Southern Illinois. Broadway Restaurant Group is one of a select group of United States Burger King franchisees that consults with corporate and test market concepts, including the Impossible Whopper. Managing partners, Henry Delouvrier of New York City and Christine Apold of Toronto, founded Broadway Restaurant Group in November 2016. For more information, visit https://www.b-restaurants.com, email [email protected] or call (314) 872-9235.

ABOUT THE BURGER KING® BRAND
Founded in 1954, the BURGER KING® brand is the second-largest, fast food hamburger chain in the world. Every day, more than 11 million guests visit BURGER KING® restaurants around the world. Burger King beef patties are made with 100% beef with no fillers, no preservatives and no additives. All Burger King burgers, including the flagship WHOPPER® sandwich and the plant-based Impossible WHOPPER®, are flame-grilled for a premium taste profile. To learn more about the BURGER KING® brand, please visit the BURGER KING® brand website at www.bk.com.
# # #

Media Contact:
Rachel Brown
[email protected]
314.266.7035