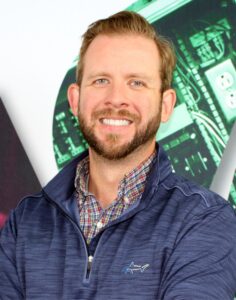 Photos Courtesy of Integrated Facility Services
To save a high-res file of the photo, click on the image above to open
the full-size photo and then right-click to save the file to your computer.
ST. LOUIS, MO – Chris Ruth, Controls Manager for Integrated Facility Services (IFS), has been selected as the 2023 Board Chair of the Missouri Gateway Green Building Council, a chapter of the U.S. Green Building Council (USGBC). In this role, Ruth works to advance the organization's mission to improve human health, support economies and protect the environment in the region by educating and advocating for green building and sustainability. As the organization's Chief Volunteer, Ruth will chair all board meetings, lead fundraising and direct future leadership efforts. 
Ruth has more than 18 years of experience designing and managing building automation systems to improve the energy efficiency of buildings across the state of Missouri. He focuses on clients across Missouri and Illinois in his current role at Integrated Facility Services, which he joined in 2005.
Ruth is a member of Missouri Gateway Green Building Council's Engagement & Outreach Committee and has served as a Green Schools Quest mentor. He is also a member of the American Society of Heating, Refrigerating and Air-Conditioning Engineers (ASHRAE), Facility Operators and Service Providers Association (FOSPA), and Building Owners and Managers Association (BOMA) as well as a frequent presenter for the Missouri School Plant Managers Association (MSPMA) and Midwest Energy Efficiency Alliance (MEEA).

ABOUT MISSOURI GATEWAY GREEN BUILDING COUNCIL
Missouri Gateway Green Building Council connects people, places and planet for a greener and healthier future. As a community of advocates and practitioners, Missouri Gateway Green Building Council gives voice to our commitment to improve human health, support economies, and protect the environment through green buildings. We educate and advocate for proven and emerging issues in green building and sustainability. Missouri Gateway Green Building Council serves the St. Louis Metro area, mid-Missouri and southwest Missouri. For more information visit www.mogreenbuildings.org or call 314-577-0854. 

ABOUT INTEGRATED FACILITY SERVICES (IFS)
Integrated Facility Services (IFS) is a full-service HVAC, plumbing, piping, fire protection and building automation firm with more than 250 professional and trade employees. Established in 1966, IFS delivers integrated mechanical engineering and construction, installation, service and planned maintenance, and energy conservation solutions to ensure occupant comfort, improve efficiency and reduce operational costs. IFS is ranked among the top 100 HVAC contractors in the country by Contractor Magazine, is a Midwest Top 50 Specialty Contractor by Engineering News-Record and is the fifth largest mechanical contractor in the St. Louis region, according to the St. Louis Business Journal.  IFS serves clients in Missouri and Illinois, with offices in St. Louis and Columbia, MO. For more information, call (636) 680-2100 or (573) 442-6100 and visit www.intfs.com.
# # #

Media Contact
Rachel Brown
[email protected]
314.266.7035