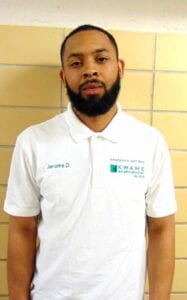 Click image to open high-res version, then right click to download
ST. LOUIS, MO – Jerome M. Dickerson of the City of St. Louis, MO has joined Kwame Building Group, Inc. (KWAME) as project engineer. Dickerson works on KWAME's pre-K through higher education projects, including the firm's Normandy School District projects. His responsibilities include project budgeting and estimating, contractor and subcontractor communications, site management and responding to RFI's and submittals.
Dickerson holds a Bachelor of Science in Construction Science from Prairie View A&M University. He was a KWAME intern for two summers.

ABOUT KWAME BUILDING GROUP
Kwame Building Group, Inc. (KWAME) is one of the nation's top pure construction management firms, dedicating 100 percent of its resources to project management services. An employee-owned company, KWAME provides estimating, scheduling, project planning, value engineering and other project management services as an independent advocate for owners and developers. KWAME's public and private sector projects include educational facilities, major airports nationwide, light-rail systems, hospitals, wastewater treatment facilities and government facilities. KWAME is headquartered in St. Louis with division offices in Atlanta, Dallas and Seattle. For more information, visit www.kwamebuildinggroup.com or call (314) 862-5344.
#  # #
Media Contact
Rachel Brown
[email protected]
314.266.7035