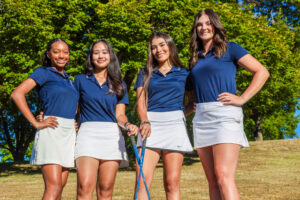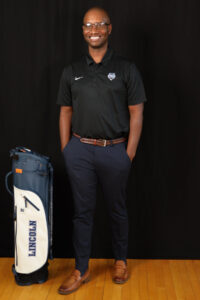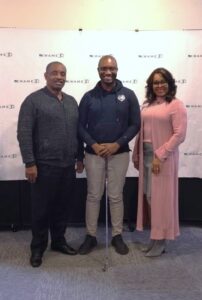 Top Row: Student athletes of Lincoln University
Bottom left –  Kortland Ware, Director of Golf at Lincoln University
Bottom right – Tony Thompson – Kwame Foundation Chairman & CEO, Coach Kortland Ware and Lydia Huston – Kwame Foundation Executive Director
Click image to open hi-res version, then right-click to download
JEFFERSON CITY, MO – Kwame Foundation and Lincoln University are coming together for a historic partnership to improve men's and women's golf programs and increase access to the sport. Kwame Foundation's multi-year commitment to Lincoln University Athletics will cover extensive renovations to the university's golf facility and provide much-needed equipment for student athletes. The renovation will include the installation of two fully interactive golf simulators, improved flooring and lockers. Founded in 1866, Lincoln University in Jefferson City, Missouri is one of the oldest historically black colleges and universities (HBCUs) in the United States and is the only HBCU in the state with both men's and women's golf programs. 
"We could not be more excited to commemorate Kwame Foundation's historic commitment to the only HBCU men's and women's golf programs in the state of Missouri," said Dr. Kevin Wilson, Vice President for Advancement, Athletics and Campus Recreation. "Similar to emerging groups of philanthropists across the country, Kwame Foundation is passionate about providing our students with access to the game of golf and equipping them with the tools to compete with anyone." 
The game of golf has been central to Kwame Foundation since its founding. Each year, the organization hosts its 'Tee Off Fore Education' golf tournament to raise money for scholarships for minorities and first-generation college students. Since 2003, Kwame Foundation has contributed nearly $3 million for endowed scholarships to colleges and universities throughout the United States. $75,000 was raised for scholarships in 2022 alone.   
"With our primary educational focus now directed towards scholarships at HBCUs, we have strengthened our partnership with each of the two historically Black universities based here in Missouri," said Kwame Foundation Executive Director, Lydia Huston. "Our support of Lincoln University's golf program is a worthwhile investment that will allow the women and men who participate various pathways for athletic and academic success. We are excited to see this program thrive and grow."
"On behalf of the Lincoln University Golf programs, I extend my deepest appreciation to KwameFoundation for their partnership. I am grateful for their desire to see progress and a culture of competitiveness in HBCU golf," said Kortland Ware, Director of Golf. "Support from  KwameFoundation will expedite our development into a program that will make our alumni, the Jefferson City community, and the Show Me state proud."
ABOUT KWAME FOUNDATION
Founded in 2003, Kwame Foundation is the charitable arm of Kwame Building Group. Kwame Foundation is a nonprofit organization created to address a prevailing need among African American students who have the aptitude and motivation for college, but who lack the financial and other resources necessary to succeed and graduate. Programs include contributions to universities for scholarships, educational mentorships, internship opportunities and training to prepare for an ever-evolving workforce. For nearly 20 years, Kwame Foundation has been a champion for education and a philanthropic pillar in the St. Louis area and throughout the United States. 
For more information about Kwame Foundation,  contact Lydia Huston at [email protected] or call (314) 754-5619.

#  #  # 
Media Contact
Rachel Brown
[email protected]
314.266.7035