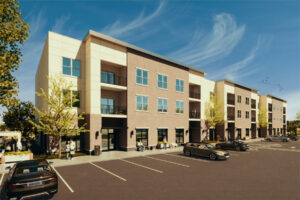 Rendering Courtesy of Fox Architects
To save a high-res file of the photo, click on the image above to open the
full-size photo and then right-click to save the file to your computer.
New mixed-use building will feature 15,000 square feet of retail and 24 residential units
ST. LOUIS, MO – St. Louis, Missouri-based Mia Rose Holdings has announced the expansion of The Prairie luxury multi-family community in Dardenne Prairie with the addition of a 45,000 square foot mixed-use building. The three-story building will include 24 two-bedroom, two-bath apartment units on the second and third floors and nearly 15,000 square feet of space on the first floor.  The team will break ground in February and the project is scheduled to be completed by the end of 2023. Mia Rose Holdings has partnered with Midas Construction as their design-build contractor with Fox Architects providing architectural services and Engenuity providing the engineering services. 2B Residential is the property manager and St. Louis Commercial Realty is providing retail leasing. 
Conveniently located at the southwest corner of Bryan Road and Missouri Route 364, the mixed-use building is part of the larger $75 million development that includes five, three-story apartment buildings with 120 one-bedroom units and 60 two-bedroom units, 60 three and four-bedroom villas and existing retail space featuring Imo's Pizza and Twisted Sugar.  Three of the residential buildings are open.
"This is our fourth project with Tom and the Mia Rose team, and we look forward to starting construction. This will be the only mixed-use building on the property and will bring value to the community. We're proud of how the project has taken shape and look forward to partnering together to bring more great developments to the area," said Tim Flacke, Principal at Midas Construction.
The Prairie supports the "live, work, play" lifestyle with amenities such as a heated saltwater pool with sundeck and outdoor lounge, a modern clubhouse with pool table, conference/meeting room, fireplace, coffee bar, a well-equipped fitness center with free weights and Peloton Bike, bike racks, dog park, garages and more.
A beautiful palette of building materials gives the development an attractive, high-end appearance. Features include cultured stone, brick masonry veneer, cast stone architectural accents, architectural shingles, ornamental balcony railings and decorative exterior lighting sconces. Each unit features a quartz kitchen peninsula and countertops, subway tile backsplash, vinyl plank flooring, full-sized washer and dryer, a private patio or balcony with storage, large bedroom and linen closets, stainless steel appliances, granite bathroom vanities and nine-foot ceilings. 
"The City of Dardenne Prairie has been wonderful to work with at every step of the process," said Tom Kaiman, Founder of Mia Rose Holdings. "We are very excited about bringing our mixed use vision forward to the community and following through on our commitment to do what we said we would do!' 
Prospective residential tenants can find more information about the residential leasing at www.theprairieapartments.com and retail tenants should reach out to Brad Bush at [email protected]

ABOUT MIA ROSE HOLDINGS, LLC
Mia Rose Holdings LLC (MRH) is a Chesterfield, MO-based commercial real estate development company that actively acquires and develops real estate to support the needs and vision of local communities. MRH provides comprehensive, first-class development services through partnerships with the best and brightest in commercial brokerage, engineering, architectural and construction services. Mixed-use and luxury multi-family developments include The Junction in Wentzville, PURE Springdale in Northwest Arkansas, 44 West Luxury Living in St. Louis County, The Prairie in Dardenne Prairie and The Meadows in Lake Saint Louis. MRH was formed in 2014 by Tom Kaiman who oversaw more than $1 billion in development during his previous 15 years of design and construction experience. In addition to multi-family and mixed-use developments, MRH has a strong niche developing and consulting for ice rinks and other youth athletic facilities, including Maryville University Hockey Center, Pacific Ice Rink and Chesterfield Sports Complex. For more information about Mia Rose Holdings, visit www.miaroseholdings.com.
ABOUT MIDAS CONSTRUCTION
Midas Construction is a leading commercial construction company based in St. Louis, MO. The firm specializes in high rise hotels, luxury multifamily, mixed use and senior housing. Projects under construction for 2023 exceed $300 million in the St. Louis metro area thus fulfilling the mission "Building great communities in which we live and work." Notable projects include AC Hotel in the Central West End, The Prairie at Dardenne Prairie, Residence Inn in Clayton, the MILA apartments in Ellisville and Element St. Louis Midtown. For more information about Midas Construction visit https://midas.build. 

# # # 

Media Contact
Rachel Brown
[email protected]
314-266-7035