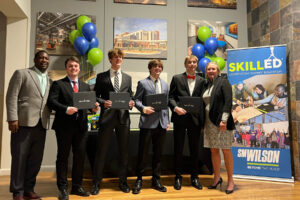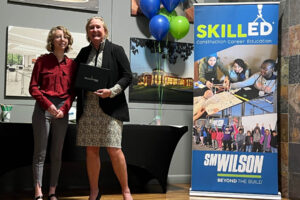 Photos Courtesy of S. M. Wilson
Team of St. Louis CAPS Global Business & Entrepreneurship students, Lila Sverdrup, Holt High School
To save a high-res file of the photo, click on the image above to open the full-size photo and then right-click to save the file to your computer.
More than 5,000 students impacted in 2022
ST LOUIS, MO – S. M. Wilson & Co.'s SKILLED construction career program is kicking off its fourth year by awarding $1,000 prizes to Missouri high schoolers. S. M. Wilson's Construction Career Education program SKILLED provides hands-on opportunities to integrate academic learning and focus on future employment in the A/E/C industry. SKILLED's mission is to "Inspire the future of construction". S. M. Wilson established the initiative in 2019 to inspire the future of construction, a field that struggles to employ enough workers, including inspiring more women and people of color to enter the field. 
The annual SKILLED Awards challenges high school students to create a process, lesson, activity or product that engages students with science, technology, engineering, art and/or math (STEAM) to engage younger students in an inspiring way. Sponsored in partnership with the Missouri School Board Association (MSBA) and the STL Works, this year's SKILLED Awards awarded two $1,000 prizes.
"Exposure to STEAM skills at a young age opens many opportunities for future development and interest in careers in construction and other related industries. It is our hope that this awards program will inspire the next generation to use STEAM learning in ways that specifically support their own communities," says Amanda Bohnert, CPSM, S. M. Wilson CMO and founder of SKILLED. 
This year's SKILLED Missouri Awards Program winners are:
Bumblebee Bonanza

created by Lila Sverdrup, a student at Holt High School in Wentzville School District, which examined how to help decreasing local bumblebee populations.




Contributing with Composting

created by a team of St. Louis CAPS Global Business & Entrepreneurship students Blake Hebert – Lindbergh High School; Bryce Nicolay – Oakville High School; and Harry Soell & George Upmeyer – Kirkwood High School, which looked at how to inspire elementary students to get involved in composting across the state.  
"Exposing students to this knowledge and getting them involved with STEAM could help inspire future hobbies, such as composting and gardening. This would help communities come together to achieve a common goal of helping better our environment," said the Contributing with Composting team in their entry. 
Over the past three years, SKILLED has reached thousands of students across several school districts in St. Louis and the MetroEast. 
In 2022 alone, SKILLED impacts included

More than 5,000 students served

28 unique STEAM education events 

More than 600 hours of educational programming

Provided 13 academic stipends 

$22,000 in college loans, 529 college savings and tuition reimbursement contributions
"The building trades are really hurting for young people. Through SKILLED, S. M. Wilson exposed our kids here in Highland to a high level of construction. In a town of 10,000 people, you don't always have a big commercial project to see what that looks like," said Chris Conrad, City of Highland Administration Manager. "The programming with our high school was a tremendous community outreach that made a definite impact at the high school. We had six kids out of that building trade program who went right into the trade upon graduating."
Throughout the construction of the firm's projects S. M. Wilson hosts a variety of SKILLED events and jobsite tours to educate preschool through high school students about the project, construction practices and industry career opportunities. 
SKILLED events include:
Career presentations:

S. M. Wilson professionals cover topics including career paths, education/training experience, general interests and talents;

Follow the Build

:

Site tours followed by classroom discussions with members of the construction team;

Build & Tell:

Construction equipment and technology demonstrations;

STEAM Projects:

Students are guided through a project to create a building design or engineer and construct a structure;

Community Celebrations:

Student handprint or art installations, tours, groundbreakings, beam raising, ribbon cuttings and more; and

SKILLED Awards
Over the past three years, S. M. Wilson has partnered with the following school districts: Alton, Francis Howell, Hallsville, Hazelwood, Ladue, Pattonville and Sikeston among others to deliver SKILLED programming to students. Learn more at www.SMWSKILLED.com.
As a leader in Construction Manager at Risk (CMAR) public school construction, S. M. Wilson is currently the CMAR for several Pre-K to 12th grade bond programs throughout Missouri. The firm has $545 million in PreK-12 CMAR projects. S. M. Wilson is kicking off $115 million in school construction projects in 2023.

ABOUT S. M. WILSON & CO.
S. M. Wilson is a full-service construction management, design/build and general contracting firm with headquarters in St. Louis and offices in Edwardsville, IL and Cape Girardeau, MO. Founded in 1921, S. M. Wilson is dedicated to going above and beyond expectations for their clients by putting people first. The 100% employee-owned company is one of the leading construction management firms in the Midwest. Areas of expertise include K-12 education, commercial, healthcare and industrial projects. For more information, visit www.smwilson.com. 
#  #  # 
Media Contact:
Rachel Brown
[email protected]
314.266.7035