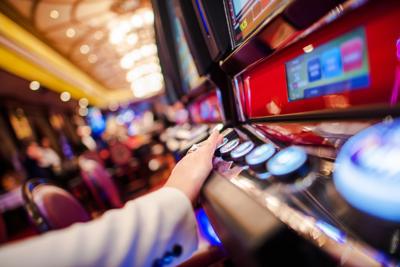 Woman playing a video gaming machine. (123rf.com)
JEFFERSON CITY — After saying he would welcome the chance to talk to lawmakers, one of the men responsible for the spread of illegal gambling machines across Missouri was a no-show Thursday at a special House committee hearing.
In September, a spokesman for Steven Miltenberger, owner of Wildwood-based Torch Electronics, said "we'd look forward to the opportunity" to make the case to lawmakers that their machines aren't illegal.
In the absence of the politically connected businessman's testimony — Miltenberger has contributed thousands of dollars to Gov. Mike Parson's election effort and hired a longtime consultant to the governor — the House panel heard law enforcement officials declare the terminals are indeed illegal.
He said the distributors and manufacturers of the machines find loopholes in state anti-gambling laws to help them avoid prosecution.
But, no matter which feature is added by the companies, the general sense is that if people put money in a terminal with the belief that they might win money, that is gambling, which is illegal if it is not regulated by the state, Sokoloff said.
Lt. Roger Phillips of the Missouri Highway Patrol also said investigators have deemed illegal the slot machines being placed in gas stations, restaurants and truck stops by companies like Miltenberger's, and have identified 34 cases eligible for prosecution this year.
Neither Miltenberger nor his spokesman, Gregg Keller, could be reached for comment Wednesday or Thursday on why they did not offer a defense.
The chairman of the House committee, Rep. Dan Shaul, R-Imperial, who had invited Miltenberger and others involved in placing thousands of illegal machines across the state, said he wished more people had testified about their personal experiences with the terminals.
"I think what we're trying to do here is really find out what's going on in the industry," Shaul said. "The absence of one player or the other doesn't really surprise me at all."
What came as a surprise to some lawmakers was the apparent reluctance by local prosecutors to fight back against the companies that are bringing illegal gambling to small towns and interstate truck stops.
Sokoloff said cases are not being pursued in court because prosecutors are waiting to see the results of an ongoing case against terminal distributors in Platte County.
But, Sokoloff added, a definitive legal answer on the issue might not come before 2021 because of appeals and Supreme Court action.
Sokoloff also said local prosecutors and police have limited resources to fight illegal gambling.
"There are lots of other crimes that are out there," Sokoloff said.
Phillips said prosecutors have been reluctant to take on the 34 cases of illegal gaming that investigators have developed this year in response to complaints.
Rep. Jeff Shawan, R-Poplar Bluff, said the popularity of the games could put citizens at odds with law enforcement officials who want to remove them.
"I'm just wondering about the practicality of enforcement," Shawan said.
James Hahn, a former leader of the Missouri Elks Association, said his fraternal organization wants the state to clarify the rules because it's unfair for businesses to be allowed to offer gambling with little chance of getting in trouble when his chapters are trying to play by the rules.
"It's time to chase that bear down out of the tree," Hahn said.
One alternative proposed during last year's legislative session was simply to make the illegal machines legal. But the state's casino operators remain opposed to that idea.
"Such bills would expand gambling far beyond what Missouri voters approved when they authorized casinos, which restricted gambling to very specific locations and limited the number of casino licenses in Missouri to thirteen," wrote Missouri Gaming Association director Mike Winter, who represents the state's 13 casinos.
Winter said the massive expansion of video gambling in Illinois has reduced casino receipts by nearly 18% as players stop going to casinos and instead spend their money on slots at neighborhood bars.
That means less revenue for state and local governments from the taxes that casinos generate.
"If Missouri experiences a similar decline in revenue as Illinois, Missouri schools, veterans and others stand to lose millions in funding," Winter said.
Scheve sent a letter to the lottery's 5,000 retailers last week telling them having the games on their premises could put them in jeopardy of prosecution.
Others in the audience included lobbyists for coin-operated businesses, the organization that represents gas stations and Major League Baseball, which is monitoring talks over legalizing sports betting.
Shaul said illegal gambling appears to be a low priority for local officials, but a high priority under the Capitol dome.
"This is a Housewide concern. I'm sure it will be forefront this year," Shaul said.
"We're going to have to address this, one way or another," added Rep. Robert Ross, R-Yukon.