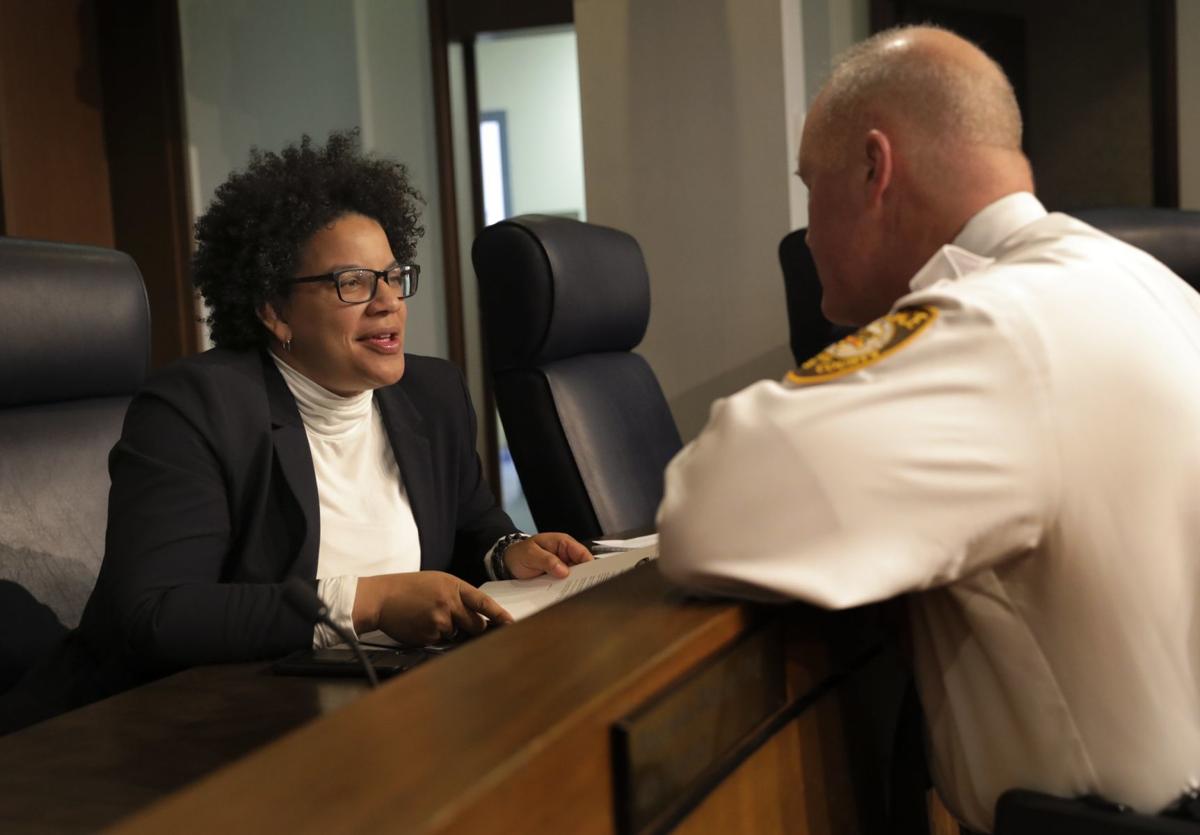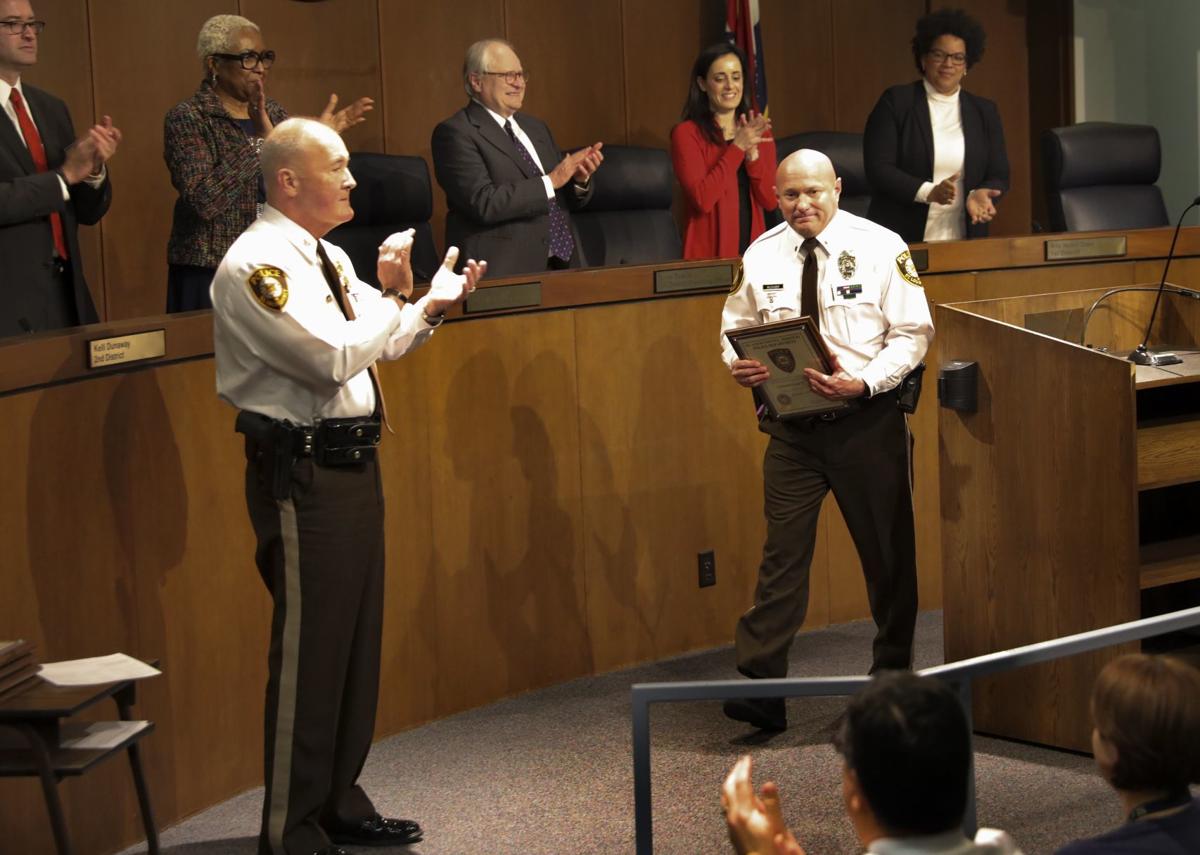 CLAYTON — The chairman of the overhauled St. Louis County Board of Police Commissioners promised changes that would make the board more accessible to the public and said its new members were committed to stamping out bias after a gay police sergeant won a $20 million verdict in a workplace discrimination lawsuit.
William Ray Price Jr. publicly praised Chief Jon Belmar's leadership during the board meeting on Thursday for creating a Diversity and Inclusion Unit. But he said in an interview after the meeting it was too soon to say whether the board would keep Belmar in the role.
"We have not spoken about that," he said. Did he expect to? He answered, "We'll have to see how things go along."
The police board met on Thursday for the first time since County Executive Sam Page replaced four of the five commissioners following the Oct. 24 jury verdict that roiled the county. And it recognized the promotion of Keith Wildhaber, who had sued the county after being passed up for promotion 23 times.
Belmar named Wildhaber last week as commander of the Diversity and Inclusion Unit, effective Jan. 1.
The promotion and new unit were announced just days before attorneys for Wildhaber and the county were scheduled to begin mediation, although both sides said it was not part of any settlement.
Wildhaber will report to Belmar, review existing diversity and inclusion efforts for effectiveness, work with community members to improve services and propose new ways to "provide confidence to the community we serve and those within our department who provide such service and protection," the police department said.
During Thursday's meeting, Price told Wildhaber that the new post was important and "not for show."
Wildhaber's appointment has been divisive, however. It drew criticism from the Ethical Society of Police, an association of black officers in St. Louis and St. Louis County, who questioned the process that led to it. In an op-ed published in the St. Louis American, the group asked why the department did not create a diversity unit after several times in recent years when black people alleged discrimination.
"In 2018, when ESOP expanded in to the St. Louis County Police Department and explained how many African American officers felt marginalized within the department and provided several examples of such treatment, there was no thought of a Diversity and Inclusion Unit," the group wrote.
Wildhaber declined to comment after the meeting.
In an interview on Thursday, County Councilwoman Lisa Clancy, D-5th District, said she shared the same concerns. She said while the creation of the unit was a positive step, "process matters."
"I'm also curious about what the process looked like to develop this new unit and identify who the leader was going to be," said Clancy, who was the only member of the seven-member council to call for Belmar to resign. "A lot of folks were qualified to lead this unit and I wonder if they got a chance."
Asked whether he had any concerns about the process that led to Wildhaber's post, Price did not directly respond. "The real question will be what this diversity and inclusion unit does," he said.
About the promotion for Wildhaber, he said, "Promotions are within the authority of the chief of police. The board does not promote or demote people. As to the timing issue, that was also the time of the appointment of four new board members, all of whom are committed to opening of the department toward people of all kinds."
Price said that he "can't speak to the past, but I can say that efforts toward a more diverse and inclusive department includes race as just as important a factor as sexual orientation or religion or any number of ways a person might be discriminated against."
However, he said he didn't think there was as much discrimination in the department "as some newspapers portray, but we certainly need to eliminate whatever discrimination there is."
Price said the board planned to be more accessible to the public by holding meetings in different areas of the county, instead of in police headquarters in Clayton, where some people may feel intimidated to enter. And he said the board would hold some of its meetings at night, to make it easier for people to attend after work, instead of on weekday mornings and afternoons.
Thursday's board meeting highlighted another previously unheralded first for the board.
Veteran activist Zaki Baruti told the board during the public comment section that he was "glad to see it's a three-woman majority."
Many media outlets had reported that the newly constituted board marked the first time in the board's 64-year history that a majority of the seats were held by a woman.
"One clarification," interjected Dr. Laurie Punch, one of the new commissioners.
"I identify as genderqueer, and so we actually have a situation where you can count that how you want," she said.
Genderqueer people are those who do not believe their gender conforms with socially constructed "norms" associated with their biological sex.