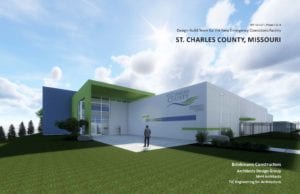 ST.LOUIS, MO – Wiegmann Associates has begun work on the St. Charles County Emergency Management's new $20 million Emergency Operations Center in O'Fallon, MO. The new center will bring all of the county's emergency resources under one roof and speed response time. Wiegmann is the Engineer of Record (EOR) and design/build HVAC mechanical contractor for the project. Brinkmann Constructors is the general contractor.
The 30,000-square-foot, one-story building will house the day-to-day operations of the Department of Emergency Communications, St. Charles County Police Department's Division of Emergency Management and a 1,400-square-foot mission critical data center for county information technology operations and the county-wide emergency radio communications system.
Because the facility must continue to operate during natural disasters and terrorist threats, it will be built to comply with ICC500, the design and construction standard for storm shelters.  Wiegmann is building 100% redundency into the HVAC systems and data center to ensure uninterupted operation under any conditions.
Wiegmann's scope of work includes the design and installation of heating and cooling infrastructure for the facility and the mission-critical data center. St. Charles County needed a cost-effective HVAC system that was reliable, efficient and would meet the stringent standards required for this type of facility. Wiegmann's HVAC solution delivers lower first costs and operating costs, is simpler to operate than other considered options and will accommodate future expansion.
A Building Automation System (BAS) will prioritize cooling for critical areas. If building temperatures rise above a set point due to multiple equipment failures, the BAS system will start to cut off airflow to non-critical areas so critical areas such as the data center can remain conditioned.
The HVAC system will also provide tight humidity control to protect evidence housed in a 6,200-square-foot addition to the adjacent St. Charles County Police Department. A 6,300-square-foot addition to the adjacent fleet storage building will be used for maintenance and storage of the County's Emergency's vehicles and equipment.
This is the first time St. Charles County County has engaged in the design/build process.  All other County buildings have been constructed with the design/bid/build process.
ABOUT ST. CHARLES COUNTY EMERGENCY MANAGEMENT
St. Charles County Emergency Management maintains the St. Charles County Emergency Operations Center (EOC), which coordinates with the cities within St. Charles County, as well as neighboring jurisdictions and state and federal agencies during emergency activations. The facility also monitors weather and satellite data to provide warnings and information to the public. Public warning systems such as outdoor warning sirens and emergency cable television broadcasts can be initiated directly from the EOC. The Operations Center Communications Room monitors and communicates with emergency response agencies on their frequencies.
ABOUT WIEGMANN ASSOCIATES
Wiegmann Associates is a St. Louis-based mechanical contractor and a national leader in design/build HVAC projects. Since 1995, Wiegmann Associates has engineered and installed innovative, energy saving and cost-efficient HVAC solutions, refrigeration systems and automation controls for clients in a wide range of industries, including senior living, food and beverage distribution, warehouse, healthcare, commercial and industrial. Wiegmann also provides 24-hour preventative maintenance programs and service in the St. Louis region. Wiegmann is ranked among the top 50 specialty contractors in the Midwest by Engineering News Record and the top 10 largest mechanical contractors by the St. Louis Business Journal. For more information, visit www.wiegmannassoc.com or call (636) 940-1056.
###
Rachel Brown
[email protected]
314.961.9772