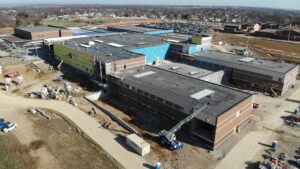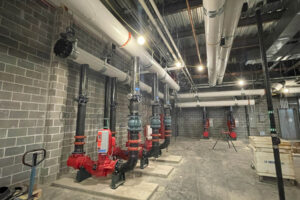 Photos Courtesy of S.M. Wilson & Co.
To save a high-res file of the photo, click on the image above to open
the full-size photo and then right-click to save the file to your computer.

Wiegmann assisted in value engineering a cost-effective solution to bring the project into budget without decreasing performance
ST. CHARLES, MO – Wiegmann Associates has begun work on the new Francis Howell North High School in the Francis Howell School District in St. Charles, Missouri. Wiegmann is serving as the HVAC mechanical contractor. S. M. Wilson & Co. is the Construction Manager at Risk (CMAR) and Hoener Associates is the architect. Construction of the new 410,000-square-foot facility is expected to be completed by the Fall of 2024. 
Wiegmann is installing HVAC systems to serve the entire new high school including 100 classrooms; science, business and computer laboratories; two administration suites; library; commons and cafeteria areas. The project also will include a multi-use gymnasium as well as a fieldhouse complete with multiple locker rooms, an office suite and a weight training room. Construction will occur in phases to allow for replacement of the existing building while school operations continue uninterrupted. 
Due to supply chain volatility and materials costs increasing to an all-time high, pricing came in considerably higher than the original project budget, which was estimated in 2018. Wiegmann collaborated with the design team to value engineer a cost-effective heating and air conditioning solution that reduces the project budget without decreasing performance. 
To meet the varying heating and cooling needs of zones throughout the building, allow for energy conservation and lower operating costs, a variable-air-volume (VAV) system utilizing a central plant will serve chilled water to rooftop air handlers and hot water to reheat terminal units. 
Wiegmann professionals are using building information modeling (BIM) to assist in constructability reviews and plan the interplay and layout of all building systems. BIM can streamline construction, improve communications, help minimize field errors and reduce rework. 
Funding for the project is part of the Prop S $244 million no-tax-rate-increase bond to address critical infrastructure needs throughout the district. The largest bond issued in Missouri history, Prop S was approved by voters in June 2020. Francis Howell School District in St. Charles County, Missouri serves nearly 18,000 students. 
Wiegmann has extensive K-12 education project experience. In 2021, Wiegmann was selected as the HVAC mechanical contractor for the $105 million renovation and addition project at Lindbergh High School in St. Louis and has also worked on projects for the Wentzville and Brentwood School Districts. 

ABOUT WIEGMANN ASSOCIATES
Wiegmann Associates is a St. Louis-based mechanical contractor and a national leader in design/build HVAC projects. Since 1995, Wiegmann Associates has engineered and installed innovative, energy saving and cost-efficient HVAC solutions, refrigeration systems and automation controls for clients in a wide range of industries, including senior living, food and beverage distribution, warehouse, healthcare, commercial and industrial. Wiegmann also provides 24-hour preventative maintenance programs and service in the St. Louis region. Wiegmann is ranked among the top 50 specialty contractors in the Midwest by Engineering News-Record and the top 10 largest mechanical contractors by the St. Louis Business Journal. For more information, visit www.wiegmannassoc.com or call (636) 940-1056.
# # #

Media Contact
Rachel Brown
[email protected]
(314) 266-7035