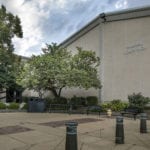 Click image to open high res version, then right click to download
ST. LOUIS, MO – Wiegmann Associates has completed an HVAC renovation and upgrade project at Parkway North High School in St. Louis, MO. The work was part of a $13 million program for improvements at Parkway North High School. The general contractor is ICS Construction Services.
The HVAC project included demolition and installation of new energy efficient HVAC equipment, and recommissioning of an existing chiller and boilers. Wiegmann also installed two new chillers and a new rooftop unit with an energy recovery wheel.
Much of the work was completed while school was in session.
Working in tight mechanical rooms and spaces, Wiegmann demolished and recommissioned several existing chiller and boiler plants, modified the existing air duct system and installed new variable air volume (VAV) boxes and sound attenuators in the ductwork.
ABOUT WIEGMANN ASSOCIATES
Wiegmann Associates is a St. Louis-based mechanical contractor serving the commercial, industrial and institutional markets, and a national leader in design/build HVAC projects.  Since 1995, Wiegmann Associates has engineered and installed innovative, energy-saving and cost-efficient HVAC solutions and automation controls for clients in a wide range of industries. Wiegmann also provides 24-hour preventative maintenance programs and service in the St. Louis region. Wiegmann is ranked among the top 50 specialty contractors in the Midwest by Engineering News Record and the top 10 largest mechanical contractors by the St. Louis Business Journal. For more information, visit www.wiegmannassoc.com or call (636) 940-1056.
# # #
Media Contact
Rachel Brown
[email protected]
314.961.9772