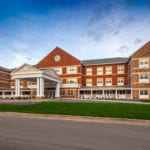 Click image to open high res version, then right click to download
ST. LOUIS, MO – Wiegmann Associates has completed the HVAC system at Cedarhurst of St. Charles, a new $17.5 million assisted living and memory care facility in St. Charles, Missouri. The 100-unit senior living facility is located at University Commons, Lindenwood University's mixed-use development directly across from its main campus. The facility has 76 assisted living and 24 memory care units. The operator is Cedarhurst Living, LLC.
Wiegmann installed an energy efficient Variable Air Volume (VAV) system for common and corridor areas of the 99,000-square-foot building. They also installed packaged terminal air conditioning units in resident rooms and a Delta Controls building automation system.
Cedarhurst is the first senior living community in the St. Louis region to be strategically located adjacent to a university campus. The owner/developer of Cedarhurst is Dover Development, LLC. The construction manager was Impact Strategies.
ABOUT WIEGMANN ASSOCIATES
Wiegmann Associates is a St. Louis-based mechanical contractor serving the commercial, industrial and institutional markets, and a national leader in design/build HVAC projects.  Since 1995, Wiegmann Associates has engineered and installed innovative, energy-saving and cost-efficient HVAC solutions and automation controls for clients in a wide range of industries. Wiegmann also provides 24-hour preventative maintenance programs and service in the St. Louis region. Wiegmann is ranked among the top 50 specialty contractors in the Midwest by Engineering News Record and the top 10 largest mechanical contractors by the St. Louis Business Journal. For more information, visit www.wiegmannassoc.com or call (636) 940-1056.
# # #
Media Contact
Mary Schanuel
[email protected]
314.961.9772