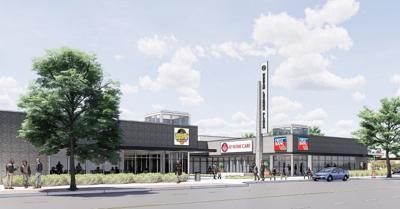 FERGUSON — On the site of a QuikTrip that burned in August 2014, politicians and business leaders squeezed into a conference room of a community center, opened two years ago to help heal one of the scars left by the unrest.
With the fifth anniversary of the death of Michael Brown days away, the Urban League of Metropolitan St. Louis on Wednesday touted rebuilding on West Florissant Avenue, the epicenter of protests and riots sparked by the shooting of the black teen by a white police officer.
Visible reminders of the civil unrest remain. Two vacant lots sit a half-mile north, where Juanita's Fashions R Boutique and an auto parts store burned. There, the Urban League and its business donors hope that a commercial development, anchored by First Bank and occupied by a restaurant and a business office, can show that the region is trying "to turn a tragedy into a triumph," Urban League President and CEO Michael McMillan said.
Yet the Urban League's planned development — actually in Dellwood, not Ferguson — is still about $2 million short on financing for the roughly $5 million project. First Bank has agreed to loan some of the money, and Ferguson-based Fortune 500 company Emerson has pledged $500,000 to the project, McMillan said.
Restaurant Sweetie Pie's, currently across the street, plans to move into the new building. Home health care services company At Home Care will put its head office in the new building. A minority business incubator also is planned.
Electric utility Ameren pledged $250,000 to the program, which helps with job training, education, connecting with employers and preparing for interviews.
"We're doubling down on the Save Our Sons program," Ameren CEO Warner Baxter told the crowd Tuesday. "It's giving men an opportunity to show talents they probably didn't even know they had."
St. Louis County awarded $50,000 in federal block grant money to fund First Financial Federal Credit Union's partnership with the Urban League to provide auto loans, credit counseling, checking and savings accounts to members of the Save Our Sons program.
Missouri Sen. Jamilah Nasheed, D-St. Louis, touted a $500,000 appropriation for the program she helped get added to the state budget this year and pledged to fight to keep it in the budget in future funding cycles.
"If it wasn't for the tragic death of Michael Brown, I don't think we'd have a Save Our Sons program," she said.
Planning and community meetings have taken place. But for all of 2018, nothing happened on the project. The county finally submitted requests for funding in 2019, and East-West Gateway recommended one of its funding requests: making the Chambers Road and West Florissant Avenue intersection safer for pedestrians. Federal money would cover 70% of the $5.1 million cost. Meanwhile, pedestrian improvements along West Florissant Avenue still wait for funding.
Erica Henderson, who leads the Promise Zone — a federal designation under the Obama administration meant to prioritize north St. Louis and St. Louis County for federal funding — told attendees Wednesday that there have been studies and outreach. The region needs to invest in north St. Louis County if it hopes to close the wealth gap between black and white St. Louisans.
"This community can no longer wait," she said.